Secured MasterCard®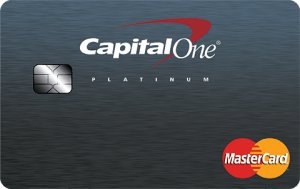 Estimated Rewards
2 Year NetRewards
$1,557.00
Ongoing NetRewards
$481.00
+ Show− Hide Reward Breakdown
Breakdown
| Category | Annual Spend | Rewards |
| --- | --- | --- |
| Other | $28,800.00 | $576.00 |
| Signup Bonus | | $500.00 (Earned) |
| Annual Fee | | $95.00 (First Year: $0.00) |
Information
Credit Rating Required
Excellent
Rewards
Everyday Rewards
2.0% Cash Back
Signup Bonus
$500.00 after spending $5,000.00 within 3 months of opening your card
Features and Benefits
Required Security Deposit
$49, $99 or $200 refundable deposit based on your creditworthiness
Initial Credit Line
Make the minimum required security deposit and you'll get an initial credit line of $200. Plus, deposit more money before your account opens to get a higher credit line.
Access a Higher Credit Line
Get access to a higher credit line after making your first 5 monthly payments on time with no additional deposit needed
Purchase Rate
24.99% variable APR.
CreditWise® from Capital One®
Enjoy unlimited access to your credit score and tools to help you monitor your credit profile with CreditWise. It's free and available to anyone, even if you're not a Capital One cardholder.
Fraud coverage
You're covered by $0 Fraud Liability if your card is ever lost or stolen.
Personalized payment
Pick your own monthly due date and payment method—check, online, or at a local branch.
24/7 customer service
Get 24/7 access to customer service online, via mobile device, or on the phone.
Extended warranty
You'll get additional warranty protection at no charge on items that are purchased with your credit card.
Auto rental insurance
Rent a car with your credit card and you can be covered for damage due to collision or theft.
Travel accident insurance
Get automatic insurance for loss of life or limb at no extra charge when you use your credit card to purchase your fare.
24/7 travel assistance services
If your credit card is lost or stolen, you can get an emergency card replacement and a cash advance.
24/7 roadside assistance
If your car breaks down or you get locked out, call us and we'll send someone to the rescue.
Price protection
Reimburses you the difference in price on eligible items should you find a lower price for the same item within 60 days from the date of purchase when you pay with your credit card.
Fees and Rates
Annual Fee
$95.00
First Year: $0.00
Foreign Transaction Fee
0%