MasterCard® Titanium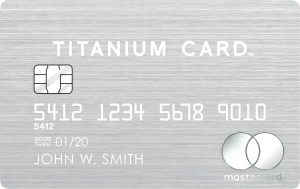 Estimated Rewards
+ Show− Hide Reward Breakdown
Breakdown
| Category | Annual Spend | Rewards |
| --- | --- | --- |
| Other | $28,800.00 | $0.00 |
| Signup Bonus | | $0.00 |
| Annual Fee | | $0.00 |
Information
Rewards
Signup Bonus
No Signup Bonus
Features and Benefits
2% Value for Airfare Redemptions
50,000 points will get you a $1,000 ticket on any airline with no blackout dates or seat restrictions.
1% Value for Cash Back Redemptions
Cash back can be deposited directly into a U.S. bank account or applied as a statement credit.
Available 24/7
Planning travel? Looking for the perfect gift? Trying to get tickets to a sold-out show? Luxury Card Concierge™ specialists are available to help fulfill requests, big or small, around the world and around the clock.
Dedicated Team
Luxury Card Concierge™ comprises a dedicated team of professionals who arrange travel, entertainment, reservations, purchases and other unique requests, as well as make referrals and recommendations for all Luxury Card members.
Global Network
A propriety CRM system allows Luxury Card agents to access a Cardmember's entire request history as well as his or her profile preferences. This creates a seamless experience, ultimately creating an opportunity to make tailored recommendations and provide custom solutions for Luxury Card members, around the globe.
Airport "Meet & Greet"
Save time, avoid hectic crowds and remove the inconvenience of airport procedures by having a professional representative meet and escort you through the airport process in an expedited fashion.
Chauffeured Transportation
Arrange a personal chauffeur service to usher you to a business engagement, exclusive entertainment venue or family getaway. Highly professional and courteous chauffeurs are waiting to assist you 24/7.
Cruise Privileges
Enjoy an adventure on the high seas with Luxury Card's cruise program, which provides access to privileges on more than 20 cruise lines. Revel in extensive amenities while appreciating the allure of ocean travel.
Charter Services
Delight in the ultimate VIP luxury experience: flying by private jet or chartering a yacht for a day, a week or longer.
Global Luggage Delivery
Luxury Card makes traveling simple. Send your luggage ahead of time to nearly any destination worldwide to avoid the hassle of carrying, checking and claiming bags, and even going through customs. On-time delivery is guaranteed to ensure you remain stress-free while protecting your possessions—simply and in style.
Wireless Communication
Luxury Card members are offered access to secure and reliable connections without high roaming fees. Enjoy peace of mind at home and abroad.
Car Rental
Drive away in your choice of car and enjoy competitive pricing, upgrades and convenient locations with Luxury Card's select car rental partners.
No Foreign Transaction Fees
Luxury Card members enjoy greater freedom with no foreign transaction fees on purchases made while traveling abroad.
Baggage Delay Insurance
If checked baggage on a common carrier flight is delayed in transit for tickets purchased using an eligible Luxury Card, you will be reimbursed for the cost of replacing essential personal or business items.
Mastercard ID Theft Protection™
Provides assistance 24 hours a day, seven days a week, with replacement of your card and notification to the credit bureau should you become the victim of Identity theft.
$0 Fraud Liability Protection
Pay only for purchases you have authorized with your Luxury Card, whether you pay in a store, over the phone or online. As a Cardmember, you are not responsible in the event someone makes unauthorized purchases with your card.
Price Protection & Purchase Assurance
Achieve the best possible price on products you buy with your Luxury Card. Should you find a lower price for an eligible item within one hundred twenty (120) days from the original date of purchase using your Luxury Card, you may be reimbursed for the price difference.
Priceless® Cities®
Celebrate the world's greatest cities and enjoy unique excursions, privileged access to exclusive events and insider opportunities.
Priceless® Golf
Access exclusive golf offers and experiences with the PGA Tour. Meet the Mastercard Golf Ambassadors, get Priceless tips and instructions from golf professionals, access the Tournament Players Club (TPC) network of private club courses, walk inside the ropes with the pros or join an official Pro-Am event.
Priceless® Surprises!
You never know where, when or who we will surprise next!
Fees and Rates
Foreign Transaction Fee
0%