Discover it® Miles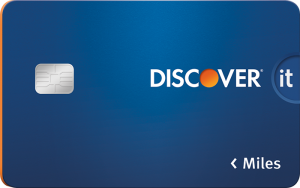 Estimated Rewards
2 Year NetRewards
$1,152.00
Ongoing NetRewards
$576.00
+ Show− Hide Reward Breakdown
Breakdown
| Category | Annual Spend | Rewards |
| --- | --- | --- |
| Dining | $1,000.00 | $20.00 |
| Gas | $900.00 | $18.00 |
| Other | $26,900.00 | $538.00 |
| Signup Bonus | | $0.00 |
| Annual Fee | | $0.00 |
Information
Credit Rating Required
Rebuilding
Rewards
Everyday Rewards
2.0% Cash Back
Signup Bonus
No Signup Bonus
Features and Benefits
We Match Mile for Mile
We'll match all the Miles you've earned at the end of your first year. For example, 20,000 Miles turns into 40,000 Miles.
Book Travel With Ease
Use your Discover it® Miles card for any travel purchase, including all airlines, hotels, rental cars and more.
No Blackout Dates
Once you book your travel with Discover it® Miles card, redeem your Miles as a statement credit towards the purchase.
Your rewards never expire.
Freeze your card Discover Card
Freeze it® on/off switch for your account.
Now if you misplace your credit card, you can Freeze it to prevent new purchases, cash advances or balance transfers on your account. Freeze or unfreeze in seconds with our mobile app or website.4
Fico credit score meter
Track your recent FICO® Credit Scores for free online and on mobile5
Use your mobile app or online account to see recent FICO® Credit Scores in one easy-to-read chart, with Key Factors that help explain your score. Plus see your score on monthly statements.
Discover it cash credit card security
Looking out for you.
We monitor every purchase, every single day and let you know of any activity that looks suspicious with an email, text or phone call. And of course, we never hold you responsible for unauthorized purchases on your Discover card.
Discover U.S. Customer Service
100% U.S. -based customer Service.
Reach our live customer service any time you call. We won't waste your time trying to sell you other products when you call. Plus get powerful, fast mobile and online service. We overnight ship replacement cards for free to any U.S. street address at your request.
Fees and Rates
Foreign Transaction Fee
0%