Costco Anywhere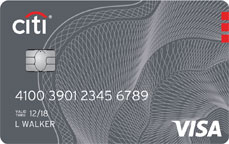 Estimated Rewards
2 Year NetRewards
$1,272.00
Ongoing NetRewards
$636.00
+ Show− Hide Reward Breakdown
Breakdown
| Category | Annual Spend | Rewards |
| --- | --- | --- |
| Travel | $4,800.00 | $144.00 |
| Dining | $7,200.00 | $216.00 |
| Gas | $3,600.00 | $144.00 |
| Other | $13,200.00 | $132.00 |
| Signup Bonus | | $0.00 |
| Annual Fee | | $0.00 |
Information
Credit Rating Required
Good
Rewards
Everyday Rewards
1.0% Cash Back
Special Rewards
Gas
4.0% Cash Back
Up to $7,000.00
Travel
3.0% Cash Back
Dining
3.0% Cash Back
Costco
2.0% Cash Back
Signup Bonus
No Signup Bonus
Features and Benefits
The Costco Anywhere Visa Card by Citi helps you get the most from your membership by letting you earn cash back on all your purchases, including 2% on all purchases from Costco and Costco.com. Apply for a credit card for Costco members so you can start earning cash back rewards today.
Earn rewards with a card designed exclusively for Costco members.
0% Intro APR on purchases for 7 months; after that the variable APR will be 15.99%1.
Annual Fee: No annual fee with your paid Costco membership1
Rewards Program Details
Get rewarded with cash back rewards
Earn Costco cash rewards everywhere Visa® is accepted. Enjoy worldwide card acceptance when you shop.
Use the Costco Anywhere Visa card as your Costco membership ID.
Need a Costco membership? Join Costco
Redeeming Costco Cash Rewards
Cash back will be provided as an annual credit card reward certificate in February billing statements, redeemable for cash or merchandise at US Costco Warehouses.
Purchase Protection
Damage & Theft Purchase Protection
Shop with more confidence — Damage & Theft Purchase Protection may cover you for repairs or a refund if purchases made with your Citi card are damaged or stolen within 120 days of purchase (90 days for New York residents).
Extended Warranty
Extends the manufacturer's warranty so you can feel more confident when you make purchases with your Citi card.
Savings
Citi Price Rewind
Did you get the lowest price on your Citi® card purchase? Let's find out. Citi Price Rewind searches for a lower price on the registered items you pay for with your Citi card at hundreds of online merchants. If the same item is found at a lower price within 60 days of your initial purchase date, you may receive the difference between the price you paid and the lower price found by Citi Price Rewind. Citi Price Rewind does that hard work for you.
Travel Protection
Trip Cancellation & Interruption Protection
Travel plans can go awry for many reasons. If certain unforeseen events get in the way of your trip, you may be reimbursed for non–refundable trip expenses, like change fees, provided you paid for the trip with your Citi card.
Worldwide Car Rental Insurance
Be more confident at the rental car counter — you may be covered against theft or damage to a rental car when you pay for your rental with your Citi card and decline the rental company's collision loss/damage insurance.
Worldwide Travel Accident Insurance
Travel with more peace of mind when you pay for your trip with your Citi card. Worldwide Travel Accident Insurance is a type of coverage that you hope to never need, but it may offer some financial help to you or your loved ones if a tragic accident does occur.
Travel & Emergency Assistance
If you need assistance before or during a trip, services are available 24/7 for emergency travel arrangements, travel issues, medical and legal referrals and much more. You won't have to scramble to find services close to your location or worry about asking for help when you don't speak the language. Referrals or assistance is at no cost, but you will pay for the services you use.
Fees and Rates
Foreign Transaction Fee
0%