Citi Simplicity®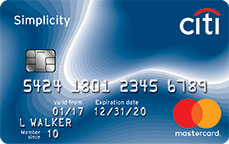 Estimated Rewards
+ Show− Hide Reward Breakdown
Breakdown
| Category | Annual Spend | Rewards |
| --- | --- | --- |
| Other | $28,800.00 | $0.00 |
| Signup Bonus | | $0.00 |
| Annual Fee | | $0.00 |
Information
Credit Rating Required
Excellent
Rewards
Signup Bonus
No Signup Bonus
Features and Benefits
With the Citi Simplicity® credit card, enjoy a low intro APR on balance transfers and purchases plus no late fees, no penalty rate, and no annual fee – ever.
0% Intro APR on purchases and balance transfers for 21 months; after that the variable APR will be 14.24% – 24.24%, based on your creditworthiness.
Balance Transfer Fee: Either $5 or 3% of the amount of each credit card balance transfer, whichever is greater.
Save time, just say "representative" when you call, to enjoy fast personal help.
No Annual Fee
Savings
Citi Price Rewind
Did you get the lowest price on your Citi® card purchase? Let's find out. Citi Price Rewind searches for a lower price on the registered items you pay for with your Citi card at hundreds of online merchants. If the same item is found at a lower price within 60 days of your initial purchase date, you may receive the difference between the price you paid and the lower price found by Citi Price Rewind. Citi Price Rewind does that hard work for you.
Security
Citi® Identity Theft Solutions
Identity theft can happen to anyone. If it happens to you, Citi® Identity Theft Solutions can help you resolve the matter and get your life back on track. We assist you with identifying compromised accounts, filing police reports and taking steps to get your good name and good credit back.
Travel Protection
EMV Chip Technology
Enjoy global acceptance and enhanced security when you use your credit card at merchants that use chip enabled terminals to accept your payment.
Worldwide Car Rental Insurance
Be more confident at the rental car counter — you may be covered against theft or damage to a rental car when you pay for your rental with your Citi card and decline the rental company's collision loss/damage insurance.
Travel & Emergency Assistance
If you need assistance before or during a trip, services are available 24/7 for emergency travel arrangements, travel issues, medical and legal referrals and much more. You won't have to scramble to find services close to your location or worry about asking for help when you don't speak the language. Referrals or assistance is at no cost, but you will pay for the services you use.
Purchase Protection
Extended Warranty
Extends the manufacturer's warranty so you can feel more confident when you make purchases with your Citi card.
$0 Liability on Unauthorized Charges
You're completely protected against unauthorized charges on your account. At Citi, you will not be responsible for a charge that you did not authorize, online or otherwise.
Convenience
24/7 Customer Service
Questions about your Citi® card account? Just call the number on the back of your credit card. Just say 'representative' to access fast, live help from a friendly Customer Service representative ready to help with virtually every aspect of your cardmembership (including technical assistance) ––24 hours a day, 365 days a year.
Automatic Account Alerts
Alerts keep you informed and stress-free. Once you've set up alerts, we'll remind you about your balance levels, payments due, or when you go over your credit limit, by email or directly on your mobile phone.
Choose your Payment Due Date
Choose to pay your bill on any available due date in the beginning, middle or end of the month. Enjoy the flexibility of paying your full balance or just the minimum payment due each month.
Citi® Cards with Apple Pay®
is another way Citi provides quick and easy payments. With a simple touch you can pay in-app or at over 200,000 stores with the iPhone®6, or in-app with the iPad Air® 2 and iPad miniTM 3. Plus, you'll still enjoy all of the benefits that come with your Citi card when you use Apple Pay to check out.
Fees and Rates
Foreign Transaction Fee
0%