Citi Prestige®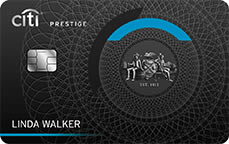 Estimated Rewards
+ Show− Hide Reward Breakdown
Breakdown
| Category | Annual Spend | Rewards |
| --- | --- | --- |
| Dining | $7,200.00 | $360.00 |
| Other | $21,600.00 | $216.00 |
| Signup Bonus | | $500.00 (Earned) |
| Annual Fee | | $495.00 |
Information
Credit Rating Required
Good
Rewards
Everyday Rewards
1 ThankYou® Point
Special Rewards
Dining
5 ThankYou® Points
Airline
5 ThankYou® Points
Hotel
3 ThankYou® Points
Cruise
3 ThankYou® Points
Signup Bonus
50,000 ThankYou® Points after spending $4,000.00 within 3 months of opening your card
Features and Benefits
The Citi Prestige Card is a featured credit card for active travelers who want to get the most out of their purchases. Earn ThankYou Points and other travel benefits to enhance your experiences wherever your adventures take you. Review the Citi Prestige Card features to learn why it's considered one of Citi's best credit cards for travel.
Bonus ThankYou Points are not available if you have had a ThankYou Preferred, ThankYou Premier or Citi Prestige card opened or closed in the past 24 months.
No Foreign Transaction Fees on Purchases
Purchase APR 15.99% Variable
Exceptional Travel Benefits
Each year a $250 Air Travel Credit will automatically be applied to flight-related expenses charged to your card, including airline tickets, baggage fees, upgrades and more.2
Extend your trip with a complimentary 4th night stay at any hotel of your choice after a minimum 4–consecutive night booking through the Citi Prestige® Concierge. For reservations made on or after July 23, 2017, the benefit will be calculated as the average nightly rate of your total stay, not including taxes.
Enjoy complimentary access to hundreds of VIP lounges through Priority Pass™ Select.2
Receive a $100 Global Entry application fee credit. Once approved for Global Entry by the U.S. Government, you can bypass long lines and enjoy expedited entry into the U.S.2
Choose from a selection of luxury tours and vacation packages, and sea and river cruises, with exclusive discounts.
Citi Concierge helps you save valuable time with a staff of specially-trained experts who are ready 24/7 to assist you with your travel, shopping, dining, entertainment and everyday needs.
Rewards Program Details
Earning and Redeeming ThankYou Points
Earn points faster with Citi Prestige®, including triple points on airfare and hotels, double points on dining and entertainment, and one point on other purchases.
Travel More with ThankYou® Points
Points are redeemable for flights on any airline when booked through the ThankYou® Travel Center.
With no points cap and no expiration of points, there's no limit to the points you can earn.
Flexible Redemption
Redeem ThankYou Points for almost anything, from travel, electronics, and one-of-a-kind experiences, to statement credits, cash and gift cards from popular retailers. You can also use your points to make a donation to charity.
Points Transfer
Points Transfer allows you to transfer your qualifying and available ThankYou® Points to airline and hotel loyalty programs including TrueBlue®, Virgin Atlantic Flying Club, Singapore Airlines KrisFlyer and Hilton Honors, to get flights faster or enjoy your stay longer. There is no fee, and the minimum transfer is only 1,000 points.
Savings
Citi Price Rewind
Did you get the lowest price on your Citi® card purchase? Let's find out. Citi Price Rewind searches for a lower price on the registered items you pay for with your Citi card at hundreds of online merchants. If the same item is found at a lower price within 60 days of your initial purchase date, you may receive the difference between the price you paid and the lower price found by Citi Price Rewind. Citi Price Rewind does that hard work for you.
Benefits You Deserve
Missed Event Ticket Protection
If the unexpected keeps you from using tickets (such as tickets for a sporting event, concert, or lecture) for an event, we may reimburse you the price of the ticket.
Security
The Citi® Identity Theft Solutions' team will help you contact credit bureaus, assist with police reports and offer assistance to get your life back in order if you experience identity theft.
Our Fraud Early Warning system monitors your account to detect potentially fraudulent transactions. When we see suspicious activity, we will take appropriate actions to protect your account.
Travel Protection
Travel & Emergency Assistance
If you need assistance before or during a trip, services are available 24/7 for emergency travel arrangements, travel issues, medical and legal referrals and much more. You won't have to scramble to find services close to your location or worry about asking for help when you don't speak the language.
Referrals or assistance is at no cost, but you will pay for the services you use.
Trip Cancellation & Interruption Protection
Travel plans can go awry for many reasons. If certain unforeseen events get in the way of your trip, you may be reimbursed for non–refundable trip expenses, like change fees, provided you paid for the trip with your Citi card.
Trip Delay Protection
Expenses while you wait, like meals or lodging? No worries, it's covered. If your trip on a common carrier is delayed on a trip, we may reimburse you for expenses incurred because of the delay.
Worldwide Travel Accident Insurance
Travel with more peace of mind when you pay for your trip with your Citi card. Worldwide Travel
Accident Insurance is a type of coverage that you hope to never need, but it may offer some financial help to you or your loved ones if a tragic accident does occur.
Medical Evacuation
Get help 24/7 when traveling and the right emergency care isn't available locally.
Roadside Assistance Dispatch Service*
Get help with a single call when car problems strike. If you have car trouble while you're on the road in the 50 United States or the District of Columbia, we'll send the help you need directly to your location almost anywhere in the U.S.
Lost Baggage Protection
Say good–bye to baggage worries. If your checked or carry–on luggage is lost, stolen, or damaged by the common carrier while on a trip, we may refund the purchase price of the missing items or the cost to repair or replace the damaged items, whichever is less.
Baggage Delay Protection
If your common carrier checked baggage is delayed on a trip, we may reimburse the cost of necessary personal and business items until their baggage arrives.
Purchase Protection
90 Day Return Protection
If you try to return an item within 90 days of purchase and the merchant won't take it back, we may refund you the purchase price.
Damage & Theft Purchase Protection
Shop with more confidence — Damage & Theft Purchase Protection may cover you for repairs or a refund if purchases made with your Citi card are damaged or stolen within 120 days of purchase (90 days for New York residents).
Extended Warranty
Extends the manufacturer's warranty so you can feel more confident when you make purchases with your Citi card.
With $0 liability on unauthorized charges, if someone uses your card without consent, you won't have to worry about paying for charges you didn't make.
Convenience
Citi® Cards with Apple Pay®
is another way Citi provides quick and easy payments. With a simple touch you can pay in-app or at over 200,000 stores with the iPhone®6, or in-app with the iPad Air® 2 and iPad miniTM 3. Plus, you'll still enjoy all of the benefits that come with your Citi card when you use Apple Pay to check out.
The Lost Wallet® Service replaces lost or stolen cards as soon as possible – usually within 24 hours – and even provides you with emergency cash.
Fees and Rates
Foreign Transaction Fee
0%