Citi® Hilton HHonors™ Reserve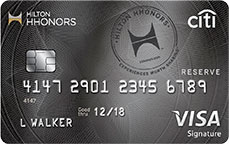 Estimated Rewards
+ Show− Hide Reward Breakdown
Breakdown
| Category | Annual Spend | Rewards |
| --- | --- | --- |
| Other | $28,800.00 | $0.00 |
| Signup Bonus | | $0.00 |
| Annual Fee | | $0.00 |
Information
Rewards
Signup Bonus
No Signup Bonus
Features and Benefits
Earn great Hilton Honors™ rewards and other travel benefits with the Hilton Honors™ Reserve Visa Card. Earn Hilton Honors Bonus Points on your purchases including hotel stays and other qualifying purchases and enjoy weekend night certificates, the benefits of Hilton Honors Gold Status and more unforgettable experiences.
Earn 2 weekend night certificates each good for 1 weekend night (standard room, double occupancy) at select hotels and resorts within the Hilton Portfolio after you make $2,500 in purchases within the first 4 months of account opening.1
Weekend Night Certificates offer associated with a new card opening is not available if you have opened or closed any Citi Hilton Honors cards in the past 24 months.
Purchase APR: 15.99% Variable
No Annual Fee
Rewards
Use your card for purchases and earn Hilton Honors Bonus Points.
Bonus Points can be redeemed for hotel stays, premium merchandise and unforgettable experiences in 104 countries.
No Cap on Hilton Honors Points
and your points do not expire as long as you have qualifying Hilton Honors activity2 at least once every 12 months.
Rewards Program Details
Enjoy Hilton Honors Gold Status as long as you are a Citi Hilton Honors Reserve cardmember
Gold Status Includes benefits such as:
25% Elite Status Bonus – You automatically receive a 25% bonus on all the Hilton Honors Base Points you earn.
5th Night Free – Silver, Gold and Diamond elite members will receive every 5th night free2 on Standard Room Reward stays of 5 nights or more.
Complimentary in–room and lobby Standard Internet access
Express check–out
Late check–out
Complimentary access to fitness centers and health clubs
Earn an anniversary bonus
of one weekend night certificate good for one weekend night (Friday, Saturday, Sunday, standard room, double occupancy), at select hotels and resorts within the Hilton Portfolio after you spend $10,000 on purchases each year (starting from your Annual Fee Date) and remain a cardmember.1
Earn an upgrade to Hilton Honors Diamond Status
when you make $40,000 or more in purchases with your card each calendar year.1
Diamond Status Includes benefits such as:
48–hour Room Guarantee — You are guaranteed a room when you make a reservation at least 48 hours prior to your arrival
50% Elite Status Bonus – With Diamond elite status, you automatically receive a 50% bonus on all the Hilton Honors Base Points you earn.
+ All Gold Status benefits
Savings
Citi Price Rewind
Did you get the lowest price on your Citi® card purchase? Let's find out. Citi Price Rewind searches for a lower price on the registered items you pay for with your Citi card at hundreds of online merchants. If the same item is found at a lower price within 60 days of your initial purchase date, you may receive the difference between the price you paid and the lower price found by Citi Price Rewind. Citi Price Rewind does that hard work for you.
Benefits You Deserve
Exceptional Visa Signature Benefits
Citi® Hilton Honors™ Visa Signature® Card gives you access to dozens of everyday perks, fine wine and food events, and Citi® Concierge Service. All in addition to the Hilton Honors Bonus Points you already earn. For more details, go to visa.com/signature.
Travel Protection
EMV Chip Technology
Enjoy global acceptance and enhanced security when you use your credit card at merchants that use chip enabled terminals to accept your payment.
Travel & Emergency Assistance
If you need assistance before or during a trip, services are available 24/7 for emergency travel arrangements, travel issues, medical and legal referrals and much more. You won't have to scramble to find services close to your location or worry about asking for help when you don't speak the language. Referrals or assistance is at no cost, but you will pay for the services you use.
Worldwide Car Rental Insurance
Be more confident at the rental car counter — you may be covered against theft or damage to a rental car when you pay for your rental with your Citi card and decline the rental company's collision loss/damage insurance.
Worldwide Travel Accident Insurance
Travel with more peace of mind when you pay for your trip with your Citi card. Worldwide Travel Accident Insurance is a type of coverage that you hope to never need, but it may offer some financial help to you or your loved ones if a tragic accident does occur.
Lost Baggage Protection
Say good–bye to baggage worries. If your checked or carry–on luggage is lost, stolen, or damaged by the common carrier while on a trip, we may refund the purchase price of the missing items or the cost to repair or replace the damaged items, whichever is less.
Trip Cancellation & Interruption Protection
Travel plans can go awry for many reasons. If certain unforeseen events get in the way of your trip, you may be reimbursed for non–refundable trip expenses, like change fees, provided you paid for the trip with your Citi card.
Purchase Protection
$0 Liability on Unauthorized Charges
You're completely protected against unauthorized charges on your account. At Citi, you will not be responsible for a charge that you did not authorize, online or otherwise.
Damage & Theft Purchase Protection
Shop with more confidence — Damage & Theft Purchase Protection may cover you for repairs or a refund if purchases made with your Citi card are damaged or stolen within 120 days of purchase (90 days for New York residents).
Enjoy no foreign transaction fees on purchases,
as long as you use your Citi® Hilton Honors™ Reserve card.
Extended Warranty
Extends the manufacturer's warranty so you can feel more confident when you make purchases with your Citi card.
Convenience
Citi® Cards with Apple Pay®
is another way Citi provides quick and easy payments. With a simple touch you can pay in-app or at over 200,000 stores with the iPhone®6, or in-app with the iPad Air® 2 and iPad miniTM 3. Plus, you'll still enjoy all of the benefits that come with your Citi card when you use Apple Pay to check out.
Fees and Rates
Foreign Transaction Fee
0%