Citi® Double Cash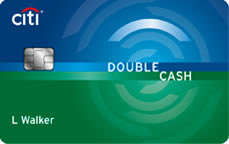 Estimated Rewards
2 Year NetRewards
$1,152.00
Ongoing NetRewards
$576.00
+ Show− Hide Reward Breakdown
Breakdown
| Category | Annual Spend | Rewards |
| --- | --- | --- |
| Other | $28,800.00 | $576.00 |
| Signup Bonus | | $0.00 |
| Annual Fee | | $0.00 |
Information
Credit Rating Required
Excellent
Rewards
Everyday Rewards
2.0% Cash Back
Signup Bonus
No Signup Bonus
Features and Benefits
Earn cash back on your purchases with one of Citi's best cash back credit cards. The Citi Double Cash card lets you earn cash back twice — 1% unlimited on purchases and an additional 1% as you pay for those purchases. Learn why this has become one of Citi's most exciting rewards credit cards.
0% Intro APR on purchases and balance transfers for 15 months; after that the variable APR will be 14.24% – 24.24% based on your creditworthiness.
Balance Transfers do not earn cash back.
Balance Transfers must be completed within 4 months of account opening.
There is a balance transfer fee of either $5 or 3% of the amount of each transfer, whichever is greater.
No Annual Fee
Rewards
Earn Cash Back TWICE
This card rewards you in two ways, so now you don't have to just spend more to earn more. First, you earn 1% unlimited cash back on every purchase you make.
Then, as you pay for those purchases – whether it's all at once or over time – you earn an additional 1% cash back on those credit card payments, as long as you pay the minimum due.
No caps and no Category restrictions
Unlike many other cash back credit cards, Citi Double Cash has no restricting categories to keep track of or enroll in.2 There are also no caps on the total amount of cash back you earn.
Rewards Program Details
What Earns Cash Back
You earn 1% unlimited cash back on all your purchases and an additional 1% on payments based on those purchases. You do not earn cash back on balance transfers, cash advances, account fees, interest, or returned items.
Redeem
You can redeem cash back for checks, statement credits or gift cards.
Benefits You Deserve
Credit card late fee pass
You've got a lot going on. We understand. That's why you get a pass on your first late fee. Just a little something that adds up to more peace of mind.
Citi® Private Pass®
Citi customers enjoy special access to purchase tickets to thousands of events annually, including presale tickets and VIP packages to concerts, sporting events, dining experiences, plus complimentary movie screenings and more, at citiprivatepass.com
Citi Price Rewind
Did you get the lowest price on your Citi® card purchase? Let's find out. Citi Price Rewind searches for a lower price on the registered items you pay for with your Citi card at hundreds of online merchants. If the same item is found at a lower price within 60 days of your initial purchase date, you may receive the difference between the price you paid and the lower price found by Citi Price Rewind. Citi Price Rewind does that hard work for you.
Credit Card Security
24 Hour fraud protection
will alert you if we see unusual activity on your account.
The Lost Wallet® Service
Sometimes things happen that are out of your control, but that doesn't mean you should be inconvenienced. If you've lost your card, we'll replace it, usually within 24 hours. In addition, we'll provide you with emergency cash subject to your available cash advance limit. Visit citi.com/cardbenefits to learn more
Citi® Identity Theft Solutions
is there to assist you should you become a victim of identity theft.
Travel Protection
EMV Chip Technology
Enjoy global acceptance and enhanced security when you use your credit card at merchants that use chip enabled terminals to accept your payment.
Trip Cancellation & Interruption Protection
Travel plans can go awry for many reasons. If certain unforeseen events get in the way of your trip, you may be reimbursed for non–refundable trip expenses, like change fees, provided you paid for the trip with your Citi card.
Worldwide Travel Accident Insurance
Travel with more peace of mind when you pay for your trip with your Citi card. Worldwide Travel Accident Insurance is a type of coverage that you hope to never need, but it may offer some financial help to you or your loved ones if a tragic accident does occur.
Worldwide Car Rental Insurance
Be more confident at the rental car counter — you may be covered against theft or damage to a rental car when you pay for your rental with your Citi card and decline the rental company's collision loss/damage insurance.
Purchase Protection
Damage & Theft Purchase Protection
Shop with more confidence — Damage & Theft Purchase Protection may cover you for repairs or a refund if purchases made with your Citi card are damaged or stolen within 120 days of purchase (90 days for New York residents).
Extended Warranty
Extends the manufacturer's warranty so you can feel more confident when you make purchases with your Citi card.
$0 liability for unauthorized charges
You're completely protected against unauthorized credit card charges on your account. At Citi, you will not be responsible for a charge that you did not authorize, online or otherwise.
Fees and Rates
Foreign Transaction Fee
0%