British Airways Visa Signature®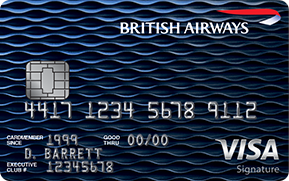 Estimated Rewards
2 Year NetRewards
$1,424.00
Ongoing NetRewards
$337.00
+ Show− Hide Reward Breakdown
Breakdown
| Category | Annual Spend | Rewards |
| --- | --- | --- |
| Other | $28,800.00 | $432.00 |
| Signup Bonus | | $750.00 (Earned) |
| Annual Fee | | $95.00 |
Information
Credit Rating Required
Excellent
Rewards
Everyday Rewards
1 Avios Mile
Special Rewards
British Airways
2 Avios Miles
Signup Bonus
50,000 Avios Miles after spending $3,000.00 within 3 months of opening your card
Features and Benefits
50,000, 75,000, or 100,000 bonus Avios
Earn 50,000 bonus Avios after you spend $3,000 on purchases with the first 3 months of account opening. Plus earn an additional 25,000 bonus Avios after you spend $10,000 on purchases or 50,000 bonus Avios after you spend a total of $20,000 on purchases within your first year of account opening.
Use your bonus Avios towards rewards flights. All reward flights are subject to taxes, fees, and carrier charges.* This product is available to you if you do not have this card and have not received a new cardmember bonus for this card in the past 24 months.
3 Avios per $1
Earn 3 Avios for every dollar spent on British Airways purchases.
Earn 1 Avios for every $1 spent on all other purchases.
Automatic enrollment in the Executive Club for new members.
No foreign transaction fees
You will pay no foreign transaction fees when you use your card for purchases made outside the United States. For example, if you spend $5,000 internationally, you would avoid $150 in foreign transaction fees.
Use your travel together ticket
Double the value of your Avios
Every calendar year you make $30,000 in purchases on your British Airways Visa Signature card, you will earn a Travel Together Ticket good for two years.* Redeem your Avios for one reward seat for yourself and use your Travel Together Ticket to bring a companion in the same cabin even first class (taxes, fees and carrier charges apply). For more details, visit ba.com/TravelTogetherTicket.
Travel & purchase coverage
Auto Rental Collision Damage Waiver
Decline the rental company's collision insurance and charge the entire rental cost to your card. Coverage is provided for theft and collision damage for most rental cars in the U.S. and abroad. In the U.S., coverage is secondary to your personal insurance.
Baggage Delay Insurance
Reimburses you for essential purchases like toiletries and clothing for baggage delays over 6 hours by passenger carrier up to $100 a day for 3 days.
Purchase Protection
Covers your new purchases for 120 days against damage or theft up to $500 per claim and $50,000 per account.
Lost Luggage Reimbursement
If you or your immediate family members' checked or carry-on bags are damaged or lost by the carrier, you're covered up to $3,000 per passenger.
Extended Warranty Protection
Extends the time period of the U.S. manufacturer's warranty by an additional year, on eligible warranties of three years or less.
Fees and Rates
Foreign Transaction Fee
0%